Beef Stew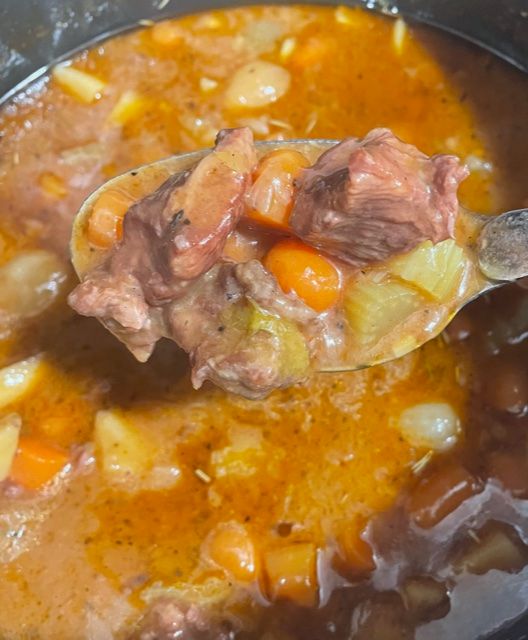 The beef I use for this recipe is typically a chuck roast.  It has some marbling, renders nicely, and is a good price. I like to cut my own into small pieces (approximately 1 inch cubes).

The sauce uses my flavorful broth as a base.  Additional aromatics are added ( I like Rosemary, Thyme, Parsley).  

The vegetables are sautéed for a little while with some butter to soften them.  This step is technically optional depending on how long you cook the stew and how much of a bite you want to the veggies.

After searing the beef, I deglaze the pan with a flavorful red wine.  I add sauce to pan with vegetables and then add beef.

This can be cooked in crockpot or stove.

Ingredients

2-3 Pound Chuck Roast (cut into 1 inch cubes)
Flour
Salt/Pepper
Bag of Baby Yellow Potatoes (Quartered)
Baby Carrots (cut into 1 inch pieces)
Bag of Pearl Onions (Frozen)
3 Ribs of Celery (1 inch pieces)
Mushrooms (Optional)
5-6 Garlic Cloves (Sliced)
1-2 Shallots (Sliced)
Stick of Unsalted Butter
1/2 Cup Flavorful Red Wine (Cabernet Sauvignon)
2 Tablespoons Tomato Paste
1 TeaspoonThyme
1 Teaspoon Rosemary
1 Teaspoon Parsley
1-2 Bay Leaves
Extra Flour or Cornstarch (Optional Slurry)

Technique

1.  Optionally, salt roast ahead of time (preferably overnight) on a raised rack.  I use about a 1 teaspoon of Kosher Salt per pound of meat.

2.  Trim the Chuck roast of any extra or hard fat.  Some pieces can be used for scraps for more stock.  Cut roast into 1 inch cubes.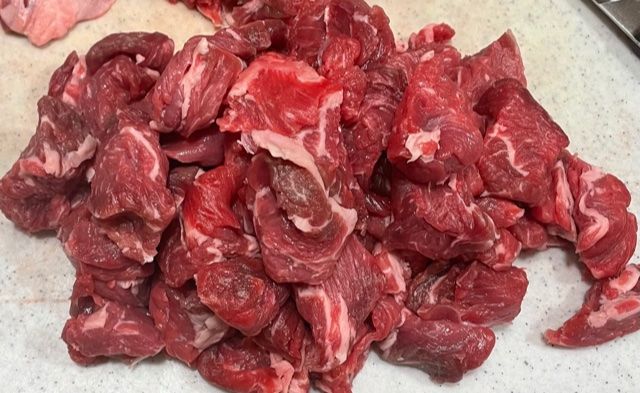 3.  Dredge the beef with some flour with salt/pepper added (to taste).  Coat all sides.  This will help thicken the sauce for the stock.

4.  Preheat Cast-Iron Skillet over medium-high heat with a high smoke-point oil.  Peanut oil or Grape-seed oil is good.

5. Brown the beef on all sides.  When done, deglaze the bottom of pan with some red wine.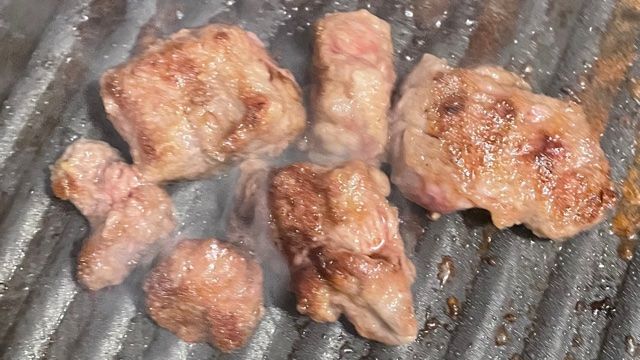 6.  In separate pot (preferably tall stock pot or crock pot), start sautéing vegetables over medium-low heat with about 4 tablespoons of butter (divided). Soften vegetables for approximately 10-15 minutes and then add beef and stock.

7.  Add tomato paste, approximately 1/4 cup of wine, chopped thyme/rosemary, and bay leaf (or two), and some more salt and pepper (optional).

8.  Ensure that stock comes to a slight boil and then a simmer.  Adjust heat to get this balance and cover.

9.  Cook for at least 3-4 hours (preferably longer).  Check the meat for tenderness and to ensure the vegetables are cooked to your preferred doneness.

10.  Add remaining butter (about 4 tablespoons) for some richness. Wait until it melts in the sauce.

11.  If the sauce is not to desired thickness, make a slurry of either flour or corn starch and add to sauce.

12.  Add more salt/pepper to taste