Chicken Wing Experiment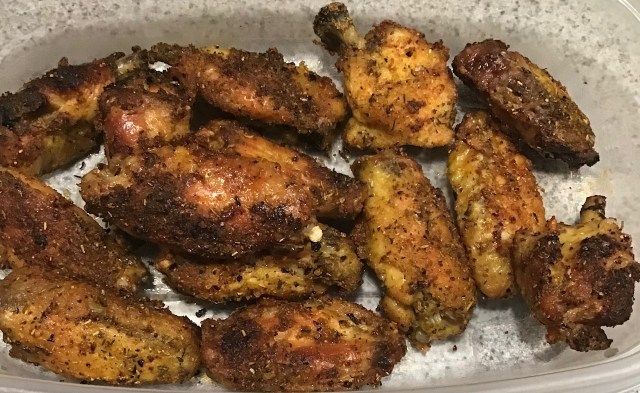 UPDATE (10/3/21)

If making a lot of these for a party, I put the wings in a disposable aluminum pan.  Cook the wings at 250 for about 1.5 hours and then finish at 450 in the oven for 10 minutes per side (or until nice and brown).  The only downside to this is that they are not as crispy (since they were not cooked on a raised rack).  They are still moist and fall off bone with a great flavor though.
This is what I call DIY (do it yourself) wings.  Buying Buffalo wings out can get to be a little expensive.  It's also hard to find a restaurant that can has good/meaty wings, a good selection of sauces (if you like sauce), a crispy outside exterior, and juicy meat on the inside.  There is the debate on whether the meat on the inside should be fall off the bone or one that just adheres to the bone slightly but is still juicy/tender.
The recipe I'm going to show today can be used with our without sauce.  I like having a dry rub with no sauce but the dry rub is a good base to have whether you sauce your wings or not.  The dry hub reminds me of the bark that is formed with good BBQ ribs.  The rub I use for this recipe is a Poultry blend by Lawry's that I bought from BJs.  It can be used for many purposes and (in my opinion), has a perfect blend of flavors (thus you don't need sauce).
I use my electric Masterbuilt smoker for this recipe but the same method can be used in a regular oven.  The only difference is that you won't get the smoky flavor.
Whether you use a smoker or your oven, the wings are cooked low and slow at 225 degrees for approximately 1 hour (until temp of chicken is 145 degrees). Depending on the size of the wings and the way you like them (fall off the bone or slightly adhering to the bone), this time can be adjusted to your liking. It is pretty difficult to overcook these wings at this low of a temperature, but they could get a little mushy.
I buy whole wings from the grocery store.  I decided on fresh instead of frozen for now.  The ones I purchased were Perdue brand.  6 whole wings were approximately $7 which yields about 14 pieces (7 drummettes and 7 flat pieces).  I cut the wing tip off and discard it. I then apply a slight amount of oil (but you may be able go without).  See note at bottom of this article for some changes I would make for the next time I make the wings.
After the wings get out of the smoker or oven, I brush them with a little butter and and broil them at 450 for approximately 5 minutes.  I turn them and brush the other side with some butter as well and broil for another 5 minutes.  If I need to re-apply some seasoning, I do that as well.
Since this is still an experiment, I am posting a preliminary recipe.  The idea is that I will include notes at the bottom of things I would improve for next time.  Once I vet those changes, I will post the final recipe.
Ingredients
A little oil (or no oil) to coat the wings.  See note below.
Desired Type/Number of Wings
Lawry's Poultry Seasoning (picture below)


Technique
1.  Separate the wings (if you purchased whole wings) into drummettes and flats.  Discard tips.
2.  Liberally apply seasoning to both sides of wings in disposable aluminum pan.  I'm still deciding on whether to use oil or not for binder.
3.  Heat smoker or oven to 250 and cooke for 2 hours (uncovered).
4.  Once the wings have been removed from the smoker/oven, melt some butter and preheat broiler to 450 degrees.  You may want to remove any excess oil from bottom of pan if you are using the same pan you had for the first part of cooking (IE: smoker/oven). Alternatively, you can use another sheet pan for the broiling part.
5.  Coat one side of the wings with butter (I find using a brush is best).  Re-apply some seasoning if you want some more.
6.  Cook for about 5 minutes on first side (or until the the skin is crisp/dark to your liking).
7.  Turn over wings and apply butter to second side. Reapply seasoning if you wish.
8. Broil for about 5 more minutes.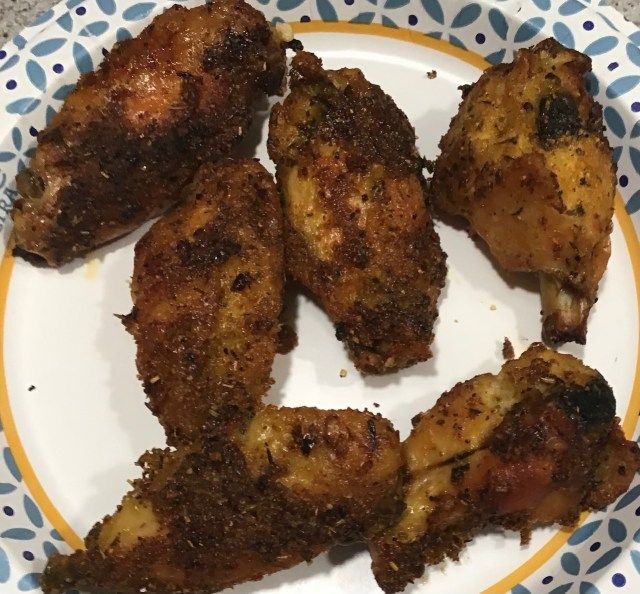 The wings were flavorful and crisp on the outside.  Some of the meat was falling off the bone a little too much.  I might try reducing the smoking time slightly for next time or get larger wings.
Some Potential Improvements
1.  As I mentioned previously, I would probably apply less oil the next time I make wings due to the fact that was a pool of oil in the bottom of the pan.  The bottom of the wings were not as crisp as I would like due to this pooling.
2.  I may want to try getting meatier wings from another company.  If I decide to try frozen wings, I may defrost them first.
3.  I would need to adjust my cooking time depending on how large the wings are.  Since the ones I used this time were on the small-side, I may want to cook in the smoker/oven for only an hour and a half.