Roasted Bone-In Chicken Breasts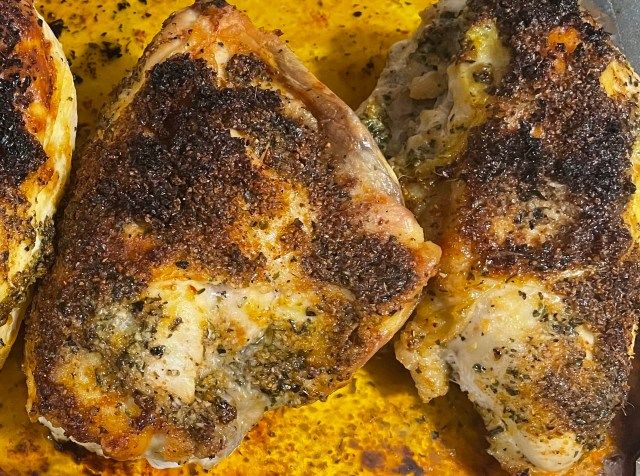 This recipe is a staple in our house. The bone-in chicken breast is juicier as compared to boneless breast. Also, I make an herb butter using poultry seasoning to put under the skin. Another seasoning (or the same one) can be sprinkled liberally on top with a drizzle of olive oil. Lastly, the chicken is cooked at 375 for most of the time (up to 135 degrees). For the last 25 degrees (to 160), the oven is increased to 425.

Ingredients

Lawry's Poultry Seasoning
BBQ Seasoning (if desired)
Olive Oil
Bone-In Chicken Breasts
1 Stick of Unsalted Butter
Teaspoon of Kosher Salt (optional)

Technique

You can pre-salt the chicken with some kosher salt on the skin if you have time. This will help dry the skin out. Let the chicken sit uncovered on a rack in the refrigerator for at least 12 hours. This will help prevent the chicken from overcooking and it helps the skin stay dry (so it crisps). One thing to keep in mind (if salting) is that you don't want the seasonings that are added to the herb butter (or outside of the chicken) to be too salty (unless you like that kind of thing).

Pre-salt (if desired). See note above

Preheat oven to 375.  I use the second rack from the top.
Dry chicken on both sides
Make a butter rub with poultry seasoning. One tablespoon should do.
Rub the butter mixture underneath the skin.
Sprinkle either poultry seasoning or some other flavorful (BBQ) seasoning liberally on the chicken.
Drizzle olive oil on top of the chicken.
Insert meat thermometer into one of the breasts.
After about 20 minutes in oven (around 110 degrees), rotate pan and put thermometer in another piece of chicken.
When chicken reaches 135 degrees, increase temp of oven to 425.
When chicken reaches 160, remove from oven.

Check all the breasts to ensure they are all around 160
Cover loosely with aluminum foil and let rest 5-10 minutes.